California's bestselling, couch-inducing Indica, blended with the ultimate knockout: CBN, delivers a fast acting, one-two punch, designed to lay you down, while lifting your head straight into the clouds.
Cloudberry CBN contains a 3:1 ratio of THC to CBN. CBN is a rare cannabinoid created when THC is aged in oxygen and light, and when combined with THC, may create more powerful sedative effects than THC alone.
The Original high-potency vape cartridge, Heavy Hitters boasts the biggest hits and most true-to-form taste. Heavy Hitters' signature Cold-Filtering purifies the oil beyond standard distillation, resulting in a consistent, ultra-potent cannabis oil, and the purest, best-tasting experience. True Ceramic cartridges have a ceramic core, and are coated in ceramic to ensure an even heat for consistent hits and less burnt taste. Bearing the Clean Cannabis Guarantee seal, Heavy Hitters proudly meets or exceeds all California standards for cannabis excellence and safety.
order light out vape pen near me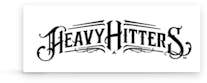 Heavy Hitters is the Original SoCal vape that gives smokers the best-tasting and most enjoyable high. With our proprietary blend of terpenes and our proprietary cannabinoid profile, our carts boast True Ceramic heating elements with Cold-Filtered distillate for clean taste and potency. Heavy Hitters gives you the freedom to be an original every day.
Strain Type: Indica
THC: 65%, CBD: 2.3%
Taste Profile: Berries, Sweet, Earthy
Effect Profile: Energetic, Relaxed, Sleepy, Happy, Calm